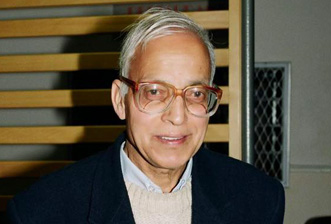 Priya Bandhugan,
It was extremely saddenning to know about the demise of Man Shri Satyanarayanji, our former Sanghchalak of UK.
Shri Satyanarayanji – RAYURU to his friends in Bharat, was in indifferent health for the last couple of years and also he was past 90. His passing away thus rather was in a natural course; however with him we have lost an important link of five decades of Sangh work in UK. We all know that he was associated with the UK Sangh work right from its inception in early sixties. He was initially the UK karyavah and subsequently became  the UK sanghchalak. Till permitted by health he was deeply involved in the Sangh work. On all the week ends he would be visiting Shakhas – mostly by public transport.
As sanghchalak he was a true guide, friend and philosopher of the swayamsevaks. Extremely sweet and soft speaking he was an epitome of simplicity. Very meticulous in habits, he adjusted with his diabetes throughout life without any fuss.
We know that his native place was Mysore where he was the Kayawah before he shifted to Bengaluru. His job as a chief statistician at the International Coffee Board brought him to UK. I had several occasions to visit his office near Oxford Circus during Lunch time.
During the Sangh meetings he used to write the minutes in long hand which can even now form a good document about our discussions and proceedings.
He attended all the Sangh Shiksha Vargs in UK and also the first three Vishwa Sangh Shibirs at Bengaluru, Kayarohan and then in Mumbai.
He accompanied in U the travelling Sangh Adhikaris of Bharat including Poojaniya Rajjubhaiyya, Man Seshadriji and also Man Sudarshanji and others.
Yesterday Man Mohanrao Bhagwat talked to me and recollected how in his UK pravas he had travelled to Man Satyanarayanji's residence in Finchley by changing the bus at Finsbury station.
Man Satyanarayanji was a true Sthit Pradnya in life. He bore with dignity premature loss of his only son, Prakash and later on his wife, Shrimati Ratnaben, and took it as His will.
It was a providential coincidence that he got sick early morning on 12th May and was to be admitted in the hospital. He was scheduled to leave for UK on 12th night itself. Thank God that he breathed his last in Punyabhoomi Bharat.
We pray for the Sadgati of the departed soul and pray that Man Satyanarayanji's daughter JYOTI. Son in law Somshekhar and grand son Vinay bear the loss with courage. They should have solace that Man Satyanarayanji lived a full and  SAARTHAK life.
Om Shanti Shanti Shanti
Shankar Tatwawadi
Nagpur, Bharat
14 May 2015
---
Namaste all,
Extremely sorry to read about the sad demise of Maananiya Shri Satyanarayana ji. He has left his body at a very ripe old age and after leading a fulfilled life. I was not fortunate enough to get a lot of time with him. In fact I met him briefly only once. However while in UK pravas or whenever the topic of UK Sangh karya came up Ma. Satyanarayana ji's name always came up with greatest regard. Obviously enough as he was prominently involved since the inception of Sangh in the UK and the next 40 years. I salute to his great contribution to Sangh karya in Vishwa Vibhag.
May his memories always keep us inspired. May Shri Bhagwan grant sadgati to his departed atma.
Om shantih shantih shantih.
With deepest regards and sympathies,
Saumitra Gokhale
HSS Global Coordinator
USA
14 May 2015
---
It is difficult for us swayamsevaks to find right words to effectively express our inner feelings and lifelong impressions about Man. Satyanarayanaji.   As Man. Shanker Raoji`s says, he was a Sthit Pragya in true sense.   I experienced in  him a tremendous depth of spirituality, invisible depth of knowledge and human understanding – this was fully reflected by his vyavahar with young and old.   His guidance was invariably impeccable, yet unimposing.   Bitterness was beyond him and he took any bitterness expressed to him with a sense of equilibrium.   His presence, wherever, was inspiring and reinforced confidence in swayamsevaks.   Making an enemy of any one was absolutely beyond him – Ajaat-shatru.
May we all continue to receive inspiration and guidance from the legacy of Sanaskars imparted by Man. Satyanarayanaji.
Vandan
Kishor Ruparelia
Gen Sec VHP(UK)
15 May 2015
---
We have lost a unique and special human being from a group of those people who sacrificed all for our Hindu Samaj under testing conditions in an alien land. We are what we are because of those sacrifices.
Right from my first meeting in mid 60s, like so many other young individuals, Man. Satyanarayanji made an impression of a fatherly figure, who commanded respect and reverence. Apart from all of you, he has left so many imprints on the lives of so many. We would like to share with you a Poem that comforted us when our dear Father passed away last year:
'Remember Me'
Do not shed tears when I have gone
But smile instead because I have lived
Do not shut your eyes and pray to God that I'll come back
But open your eyes and see all that I have left behind
I know your heart will be empty because you cannot see me
But still I want you to be full of the love we shared
You can turn your back on tomorrow and live only for yesterday
Or you can be happy for tomorrow
because of what happened between us yesterday
You can remember me and grieve that I have gone
Or you can cherish my memory and let it live on
You can cry and lose yourself,
become distraught and turn your back on the world
Or you can do what I want
Smile, wipe away the tears, learn to love again and go on'
May his soul rest in peace and we pray to the Almighty to give your family strength and courage to face such an irreplaceable loss.
Om Shanti Shanti Shanti
Balbir and Sunita Datta and other members of our Family
Cambridge, England
15 May 2015
---
Pranam,
We all pray to Shri Bhagwan for sadgati of the departed soul.
I met and worked closely with Satyanarayanji when I was in UK from 1990 to 1994 before moving to USA. He and Ratnaji were always very kind and cheerful. He was always very supportive and guided sangh work diligently in spite of constraints and limitations.
Remembering his character and great qualities and following the path of dedication to society is true shraddhanjali to him……his memory and kindness will always remain fresh in our memories…..
Regards
Arun Kankani
Director, SEWA USA