On Friday 10th April, the MP for Reading West, Alok Sharma visited the children of Reading Balagokolum at the temple.
On arrival, he was greeted and told about the aspects of Balagokolum and saw at first hand some exercises and khel activities.  He was given a tour of the temple where he met panditji and the temple chairman – Dr Ashok Khare.
It was wonderful to find out about the work of a Member of Parliament as well as gain insight into his life.  Mr Sharma was born in India and reminisced about growing up in Reading and how in the past people faced discrimination and how different it is now.  With determination and hard work, it's possible to overcome obstacles and achieve our goals.
At baudhik, we recited the Gayatri Mantra and shared the story about the lion and the mouse. A moral story which demonstrates that even the big and strong may need the help of the small and weak.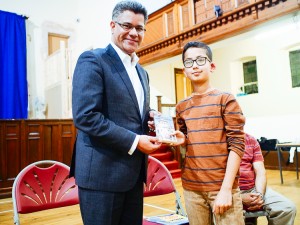 Afterwards, the floor was open for a question and answer session where the children had some probing questions such as which football team he supported and what sort of music he listened.  The avid Chelsea supporters did not hold against him for liking Reading FC and he struck a chord when he admitted that he listened to both classical and popular music.  Also, it was a great opportunity for budding MP's and future prime ministers to enquire about what they need to do to get to number 10.
Alokji was given a copy of the recently published Hindu Manifesto containing details of issues important to Hindus in the UK. As a thank you, he was presented a book on swami Vivekananda, a book on Yoga and invited to participate in the International Yoga Day.  The evening was finished with some refreshments. Alokji appreciated the invitation, commented on how well organised function was and the hospitality shown. The children thanked him profusely, wished him well in the forthcoming general elections and look forward to a visit to the Houses of Parliament. They are now looking forward to meeting the members of the Liberal Democratic Party.
By Ramesh Mepa