SINGAPORE CONSERVES 179-YEAR-OLD HINDU TEMPLE
A 179-year-old Hindu temple in Singapore, which is among the 75 heritage buildings proposed for conservation, will reopen this month after a $5.6 million makeover.
The Sri Veeramakaliamman Temple was built as a small shrine in 1835 by early Tamil immigrants. The temple in the Little India precinct has undergone SGD 7 million ($5.6 million) renovations and is scheduled for reopening on June 22, 2014.
A dozen craftsmen from Tamil Nadu have been doing restoration work to the temple's 640 statues and deities, depicting scenes from Hindu mythology. The craftsmen have also restored and painted the temple's eight domes and decorative cement fixtures on its ceilings and facade.
The URA spokesperson said the temple was both historically and socially significant. It is one of the 15 places of worship listed for conservation. The temple is popular among Singapore's Tamil community and migrant workers from Southern Bharat who spend their weekend and day off in Little India
---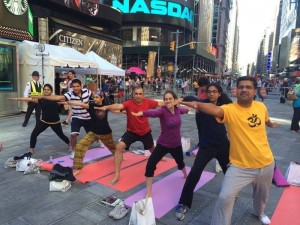 STRIKE A POSE AT YOGA EVENT IN TIMES SQUARE
Thousands of sun-worshipping yogis lined their mats up in the middle of Times Square to celebrate the summer solstice on 21st June. More than 11,000 people followed the Athleta sponsored events "Solstice in Times Square: Athleta Mind over Madness Yoga" as they gradually moved from pose to pose with their bare feet.
"It's the longest day of the year. In the yoga tradition, this is the day you worship the sun," told Christina Cielusniak, 25, a yoga instructor from Wayne, N.J. The sun is an important aspect of yoga. In fact, one of the most familiar stances is Surya Namaskar, which means "sun salutation" and represents a symbolic movement of the human reliance on the sun.
"So it really is this metaphor for the larger challenges of our lives. How do we stay present, how do we stay focused with all the distractions," Tim Tompkins, president of the Times Square Alliance, told CBS News.
Tompkins led the first of eight free classes given on 21st.  "I am struck at how it actually is possible in the midst of all this busyness to get yourself into a different state of mind," he said.
The event was held both June 21 and 22 to give as many people as they could the opportunity to participate in the free classes, which were live streamed on several websites.
---
HSS HINDU YOUTH CONFERENCE 2014
From April 5th-6th 2014, 29 Yuvas from the NorthEast area gathered at Arsha Vidya Gurukulam in Saylorsburg, Pennsylvania for a two-day Hindu Youth Conference. The goal of this conference was to provide a platform for young people between the ages of 18-35 to socialize, share ideas, and get more in touch with their identity as Hindu Youth. Participants included some young working professionals, and students from various Universities like Pennsylvania State, Drexel Rutgers etc.
Shakha was conducted in a manner geared towards new yuva and each agnya was explained before it was given. Many activities were planned in the schedule to encourage teamwork, build enthusiasm, and stimulate bonding. Boudhik activities were planned so that they would be more interactive rather than lecture based and the topics chosen were useful specifically for Yuvas. The varg ended on a high note with a conclusion by Yelloji Mirajkar, highlighting the universal and all-inclusive principals of Hinduism.
---
SANJAYA RAJARAM NAMED WINNER OF 2014 WORLD FOOD PRIZE
Bharat -born plant scientist Sanjaya Rajaram has been named the winner of the USD 250,000 World Food Prize for his breakthrough achievement in increasing global wheat production by more than 200 million tonnes following the Green Revolution.
More than 480 high-yielding wheat varieties bred by Rajaram have been released in 51 countries on six continents and have been widely adopted by small- and large-scale farmers alike. "Rajaram's work serves as an inspiration to us all to do more, whether in the private or public sector," said US Secretary of State John Kerry at an event where he delivered the keynote address.
Rajaram followed Nobel Peace Prize Laureate Norman E Borlaug at the International Maize and Wheat Improvement Center, CIMMYT, leading its Wheat Program from 1976 to 2001. The World Food Prize was established in 1986 by Borlaug in order to focus the world's attention on hunger and on those whose work has significantly helped efforts to end it.
---
SANSKRIT CONFERENCE AT MCGILL
Samskrita Bharati (Canada) participated in the 10th Annual Sanskrit Conference held at McGill University in Montreal on 30th May where they launched a unique product – Sanskrit Greeting Cards with support of Prof. (Dr.) Arvind Sharma. Samskrita Bharati wishes to make Sanskrit popular in daily lives through use of innovative approaches like Greeting Cards for special occasions and have many exciting future projects in the pipe line.
---
YOGA IN SIERRA LEONE
Sierra Leone may not be the kind of place you expect to find yoga. But thanks to a group called Yoga Stretch, it is becoming increasingly popular. The organization is headed by Tamba Fayia, once a child soldier in Sierra Leone's civil war, who in 2012 became the country's first qualified yoga teacher. He says yoga transformed his life.
While Sierra Leone has long been at peace, many still suffer the mental effects of its 11-year civil war. With just one psychiatrist and poor mental health facilities in the country, Mr. Fayia wants to use yoga to help them, as well as ordinary people, overcome their trauma and stress