This time of year sees our Hindu communities celebrate Raksha Bandhan, in its literal sense translated as 'Bonds of Protection'. It is a festival that celebrates the duty of care, the obligation to serve those in need, and celebrates the relationships we hold dear to one another. The festival is steeped in history and symbolises the vow of protection of the wider family and to that of the whole community. A tradition on Raksha Bandhan is to tie a Rakhi to one another, a cotton thread that symbolises the universal connectedness to serve and protect each other.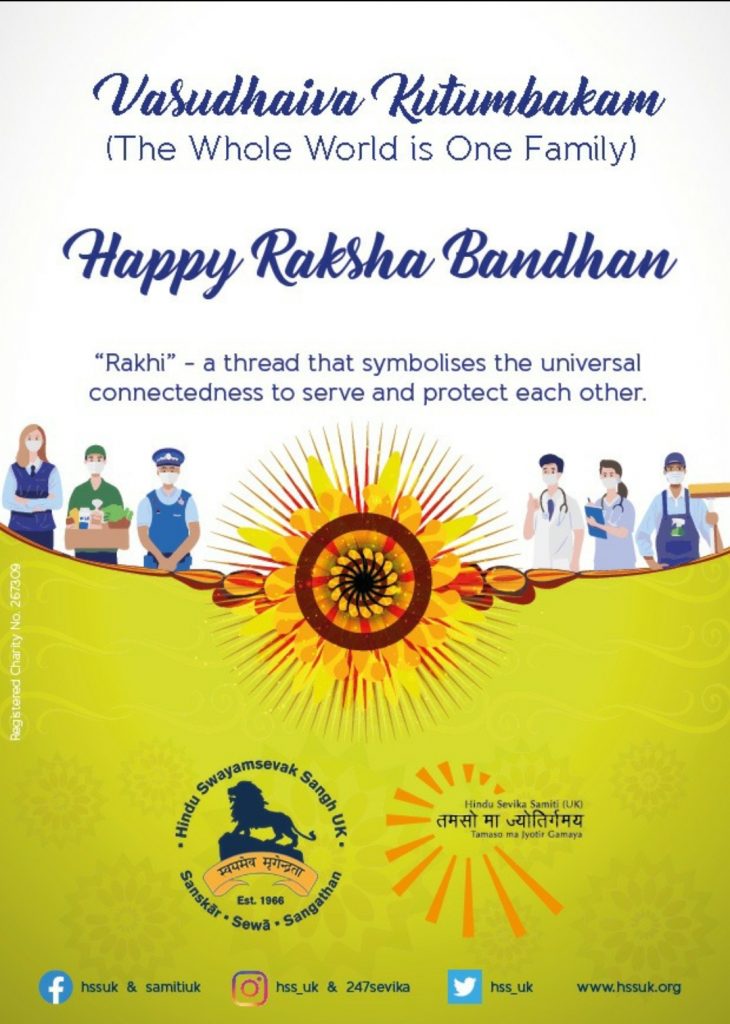 During these unprecedented times, the value of community spirit has proved to be necessary more than ever. Through acts of kindness and selfless service ('Sewa'), we have seen the spirit of humanity come together, breaking down barriers, and embodying in full the essence of the Hindu value of Vasudhaiva Kutumbakum, "the whole world is one family". This is a central pillar of our work at HSS (UK), to serve, nurture and care for each other as one large family. A number of initiatives were developed during the pandemic lockdown helping and supporting vulnerable communities and frontline services. We thank all our volunteers for their tremendous efforts to help those around us. Further details of the initiatives HSS (UK) undertook can be found on our website. (www.hssuk.org/covidresponse).
On this festival of Raksha Bandhan, we extend our gratitude to all that have kept us and our communities safe. The work in particular of the emergency services, health and social care, governing authorities, grass root charities and community organisations stand out as beacons of hope for us all, for the good in our societies, and as role models for our generations to follow.
On behalf of HSS (UK), we wish you all a very Happy Raksha Bandhan, as we all take a vow to try and serve each other and the wider community. We look forward to building on our work together and wish you all continued good health.