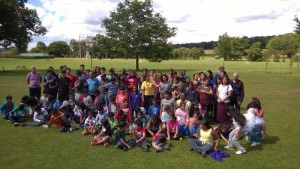 'What a weekend, Surya Dev out all weekend, laughter, fun, water fight, various khel, Bauddhik, Charcha enjoyed by over 150, Sangh, Samiti and Balagokulam.
Atmosphere was very good with over 80 excited children screaming and running around.'
Total sankhya exceeded expectation and was 150+. Nagar Shibir used to be a regular annual event until recently. These types of events actually help in nagars development.
Report by Shri Nikesh Patel – Leicester Nagar Karyawaha