Hindu Youth Group, created bonds for Peace and Social Harmony
Members of the Hindu Swayamsevak Sangh and Hindu Sevika Samiti (HSS UK), two local Hindu youth groups, today celebrated the annual Hindu festival of Raksha Bandhan in a unique way with the firefighters at Langley Fire Station.
Raksha Bandhan is a Hindu festival traditionally has been explained as the marking the respect and affection between brothers and sisters. Raksha means protection, Bandhan means bond. On this day, traditionally, sisters tie a colourful 'Rakhi' (sacred thread) on the wrists of their brothers. Sisters believe that this will bring success, peace, and good health to their brothers throughout the year. Brothers on their part take a vow to protect their sisters, and as a symbol of their love give gifts to their sisters.
As with much of Hindu philosophy, it is the symbolism that is everlasting if articulated appropriately and HSS UK has been at the forefront of articulating the values symbolised in a modern and practical way. This year therefore they articulated the raksha bandhan theme of mutual respect and protection by taking tying rakhis to the brave firefighters of the Emergency services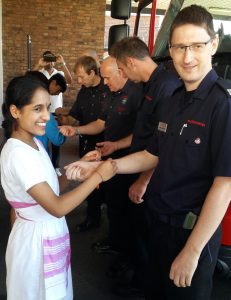 As a HSS UK volunteer explained at Langley Fire Station "In broadening the concept, the festival also celebrates those values we know to be exemplified by our Emergency Services personnel. People who step out each and every day, with the sole intent to serve and protect the lives of citizens, us. This year, like every year before it, the work of our emergency services teams stands out as beacons of hope for us all, for the good in our societies, and as role models for our generations to follow.
This year, we would like to extend the ethos of this festival by tying this Rakhi personally to you as members of our Emergency Services to Thank You for all that you do for us. In turn, we'll be taking a vow to try to serve the community as you do and learn from all the immense contribution you make, to make our lives safer."
Graham Hartley- the Crew Manager of Red Watch at Langley Fire Station said that this was a first for him and commented "This is a unique festival which is new to us at the Fire station but it demonstrates how Hindus in UK are working cohesively in promoting peace and harmony in the wider society and festivals such as Raksha Bandhan remind everyone of the true spirit of service and sacrifice for the welfare of the society we live in." he continued " the ethos of Unity in Strength and Diversity which the HSS UK volunteers emphasised today is one which the emergency services would hope is promoted throughout society and is one that is at core of our work in the emergency services. If the community works together with us then there will be a lot less issues even when emergencies arise.
HSS UK has been promoting the fact that this festival symbolises the basic element of an amicable and harmonious social life where all members of the society look upon themselves as brothers and sisters. It reflects the great Hindu belief of "Vasudhaiva Kutumbakam" (the whole world is one family).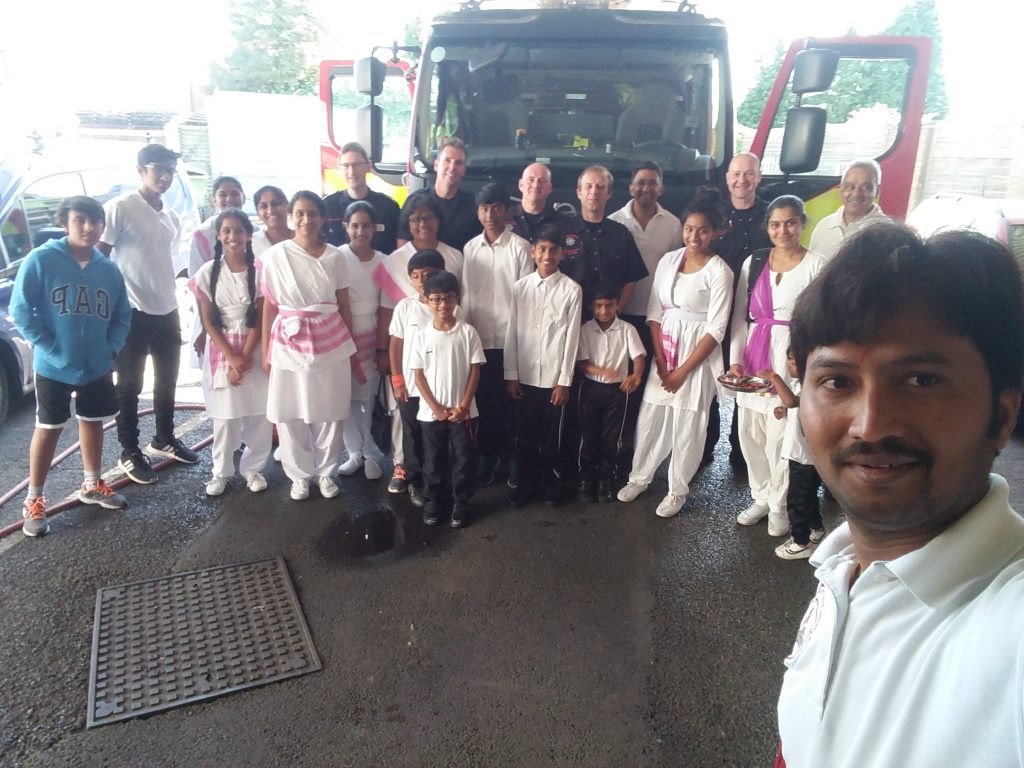 ————-
One of the 13 Year old Swayamsevak's write up on the Visit –
On Sunday 13th August, after our regular Shakha and Khel, we made our way down to Langley Fire Station. We had a very clear purpose: to tie a Rakhi to the firemen as a token of appreciation for all that they do for us, and also to celebrate the Hindu festival of Raksha Bandhan. When we got there, we were very surprised to find out that they had a gym inside the Fire Station. We also later found out that they had a tower that they use for training purposes. We also got to see some very interesting gadgets that they use for their job.
Then, we had a ceremony where we tied a Rakhi to all of the firefighters that were onsite. After that, they showed us their new fire engine, that was bought 2 months ago. They then told us about the daily life of a firefighter, and we got to see the real drill that they use whenever there is an emergency. They told us that they had to get ready and be out of the station in less than 100 seconds! We also got to see inside the brand-new, very well-equipped fire engine. Overall, the experience was very enjoyable and memorable, which gave us an insight into the firefighters lives and how they manage to do so much for us. -Vedant Dubey