Over the February half term, 100 swayamsevaks from North London vibhag assembled at Rudolf Steiner School in Kings Langley for an unforgettable weekend: the Sangh Superhero Shibir 2018.
The shibir kicked off with some quick-fire icebreaker khel and an interactive team quiz, but no superhero shibir would be complete without a superhero movie, and what better way to end the first day than over a cup of hot chocolate, watching a Pixar short on Hindu heroes? This was all just a prelude to the next day's jam-packed schedule, starting with a prayer and yoga session, where shibirathris channelled their inner warriors, a Shivaji / Superman-inspired khel session, and a team building masterclass, where the aim was to avert a drought turning into a disaster. After a lunch fit for any hero, our intrepid teams headed to different 'countries', using the raw materials at their disposal to produce and sell goods. But power imbalances soon became clear, as it dawned on some countries that others had more resources than them, meaning trade and cooperation was the only way to survive the injustice league.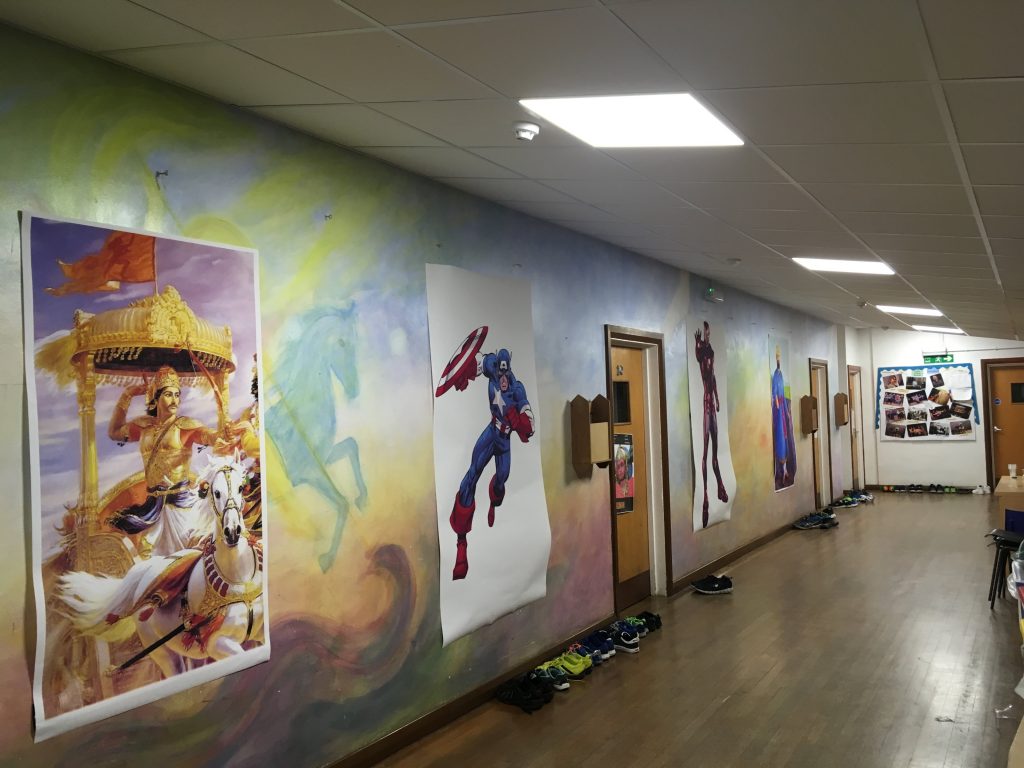 Things heated up again for the next session – an Iron Man obstacle course testing the strength of even the fittest of Swayamsevaks. Thankfully, the timetable promised to be a little more relaxing for the rest of the day, though not everyone was looking forward to two hours of Geet and Meditation… (Un)luckily for them, the projector screen appeared to get hacked and it seemed that Parinji had been taken hostage! Geet would have to wait, as teams completed a series of challenges themed around different Hindu heroes in order to crack the code and release our 'kidnapped' Karyawaha
The following day was a chance for shibiratris to showcase what they had learnt so far by creating and presenting posters on their chosen heroes. And then, what everyone had been waiting for – Mahakhel! The activity began with 'carnival' khel, with teams competing to win materials to build their forts in preparation for a massive game of Khajana Ki Raksha! Alas, while the teams had taken aim at each other, in a surprising twist, it transpired that the shikshak gana had actually taken all the treasure! Shibirathris young and old came together in a heartening display of teamwork and eventually managed to reclaim what was theirs.
Of course, the real heroes of the camp were the vyavastha team members who embodied that most important of superhero qualities: selflessness. From cleaning to cooking to keeping watch, they worked tirelessly behind the scenes to make sure everything ran smoothly.
As the camp drew to a close, the Samarop provided an opportunity for reflection and marg darshan given by Shri Yogeshji Bhide (West London Saha Karyawaha). Shibiratris had been issued with personal 'top trump' cards, listing the qualities of a hero, from courage and strength, to discipline and honesty. But this was more than just a souvenir to take home: like the Hindu heroes before us, we too can become super by honing our skills through practice and persistence. After all, if there's one thing the shibir taught us, it's that not every hero wears a cape!
By Kalpesh Mistry – Shibir Bauddhik Pramukh / Haqeeqat Shakha Wembley