I am the Change
This year marks the 5th Anniversary of Sewa Day and many more projects were undertaken across the country. Below are accounts from Bradford's Harkrishanji on the success of Bradford nagar's sewa day, and from Borehamwood's Simran Solanki on the concept of Sewa itself.
Bradford Sewa day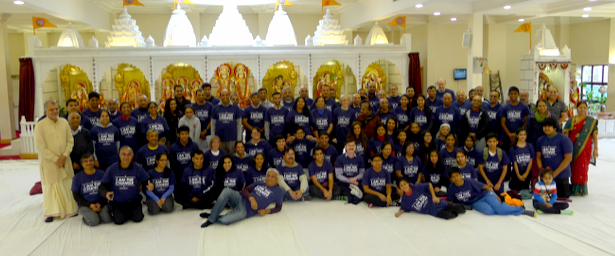 From the start of Sewa Day, Bradford has been actively promoting this fantastic event. As a community we feel strongly that it has great benefits for both the Bradford residents and hold to promote  sampark programme in the nagar. This year, the aim was to engage with the community and try to use various members and associations within the community for this event. This also gave an opportunity to get in touch with former Swayamsevaks and Sevikas to give them the chance to become project leaders.  Over the years, Bradford has built excellent relationships with various organisations such as, Sai Mandir, NHSF (Bradford, Leeds and Huddersfield), local Mandirs, local voluntary groups (Curry Project, Friends of Harold Park) and this year in particular, during Navratri, reaching out to the wider Hindu Community. Contacts were also made with the local Muslim community and create a platform for shared projects in the future.
This year, Bradford had over 120 volunteers with 10 projects. Sewa Day turned out to be a very successful event, which also received great coverage in the press via The Asian Express.
We have an excellent Sewa Day core team which we intend to build on next year and start working earlier especially prioritising to engage with the Muslim and Sikh community and to involve volunteers from our work places.
---
True Happiness Lies In The Service of Others – By Simran Solanki, Age 7
So, what do the following people have in common:- people in the army, Nelson Mandela, Mother Teresa, Charities, My Parents and My Teachers….? Apart from all of them being taller than me! These people or groups are doing Sewa : ))
But what does this all mean?
Is it about making yourself feel better? I think it's about going through life helping and improving people's lives. It is also about imparting knowledge to the betterment of their life. Nelson Mandela once said, "Education is the most powerful weapon which you can use to change the world." The smallest change can have the biggest impact. He also said, "What counts in life is not the mere fact that we have lived. It is what difference we have made to the lives of others that will determine the significance of the life we lead". The Bible quotes "Let each of you look not only to his own interest, but also to the interests of others".
There are many examples of Sewa around us – the thousands of volunteers who helped during the Olympic Games and also the hundreds of volunteers helping during the Diwali celebrations. These are all selfless acts of Sewa.
Just imagine a world where we all naturally helped each other, whether that is countries helping each other or people around us helping each other. The world would be a better place, with no need for charities, volunteers and care homes.
I am a long way from becoming famous, but I can start with my own environment, my family, serving my parents, siblings and extended family and friends. We are one big family; we depend on each other for our existence – we cannot exist alone. Therefore, we should work for the good of all.
In Sanskrit we say 'Vasudhaiva Kutumbakum' – the whole world is one big family.  Sewa can be carried out in many different ways such as helping people, giving food, clothes, blood but most importantly your time. Sewa is not always about giving money. By recycling our waste, planting trees, not polluting rivers, not wasting energy and water, and showing care for plants and animals we can extend Sewa to the whole world.
I get pocket money but have been taught to save and give half to charity. When doing Sewa, I have learnt not to expect anything in return.
One of the deliverables from this talk should be how we can help someone. It's all in our hands to create a humble environment for everyone and everything.
Be the change! I am the change.