When a small step will make a huge difference.
First Hindu Youth Parliament Outreach Event in the U.K
On one of wettest days this summer, a group of enthusiastic youngsters made their way to Portcullis House. If at all there was a meter to measure the positive energy in Boothroyd room, the needle would have gone off scale! Such is the exuberance in these youngsters that if we don't channel and nurture it, in years to come we will only have ourselves to blame.
The session in Parliament organised by Hindu Swayamsevak Sangh (UK) and the Parliament outreach team was entitled 'People, Power and Parliament-How Parliament works'. A group of attentive youngsters heard what happens in Parliament, how Parliament works to make laws, debates issues, decides how monies taken in taxes are spent on our behalf to run the country. As the issues discussed and voted upon in Parliament affect us all; it is our duty to participate in Parliament and voting. An interesting fact was that the parliamentary seat of Fife North East was won in the 2017 General elections by just 2 votes. So, the message was, every vote matters. There was an introduction to the workings of the House of Commons and The House of Lords and the role of The Monarch. We learnt that the Queen cannot vote!
An e-petition can be started by anyone who is passionate about something and often if the petition has sufficient signatories, it will be debated in Parliament. A bill is a proposal for a new law or change to an existing law and often there is frantic toing and froing of the bill from the Commons to the Lords before a bill gets the Royal Assent and a bill becomes an Act of Parliament. This fascinated Dhruv Kadam, aged 17 from Pinner and he asked if a bill has ever been rejected by the present Queen. The answer was 'No' as the queen acts on the advise of the Government. Queen Anne in 1707 refused to give the Royal Assent to a Bill on the advice of her ministers. We were shown videos on views of young people about how crucial it is to vote and a video about the role of a Parliament Select committee. Talk was interspersed with several questions from the curious youngsters. Ishwari aged 20 wanted to know if Commonwealth citizens can vote in the U.K. general elections. To which the reply was 'yes', qualifying commonwealth citizen can vote although strangely members of the House of Lords cannot vote! The interactive games and activities were thought provoking and absorbing and in the true spirit of shakha there was friendly rivalry.
There was keen interest in learning about career opportunities for youngsters in government departments and Parliament. There are positions for lawyers, Hansard Reporters, Social Media Officers, Economists, Parliamentary Assistant to an MP or a Peer, Curator and many more. Graduate Apprentice Schemes, internships, Sandwich Student Placements and work experience opportunities are open to all. On the Parliament Web Site https://houseofcommons-careers.engageats.co.uk one can register for vacancy alert email.
Contact your local MPs and councillors about further opportunities.
We also celebrated Rakshabandhan in parliament. Astha, at 12 one of the youngest attendees did tilak on Charlotte's forehead, tied Rakhi and gave sugar candy (misri) as a gesture of friendship and goodwill. We distributed more rakhis and all the attendees participated in the Rakhi tying ceremony and chocolates were distributed.
Rakshabandhan is a festival where rakhi is a symbol of love and protection. Today in Parliament, a bold new generation of young Hindus pledged to protect our values, our voice by active participation in Parliament and the processes that govern us.
So, 'उत्तिष्ठत जाग्रत, Arise Awake' the immortal words of Swami Vivekanand from the Katha Upnishad are profoundly relevant for Hindus in Britain today.
Harsha Jani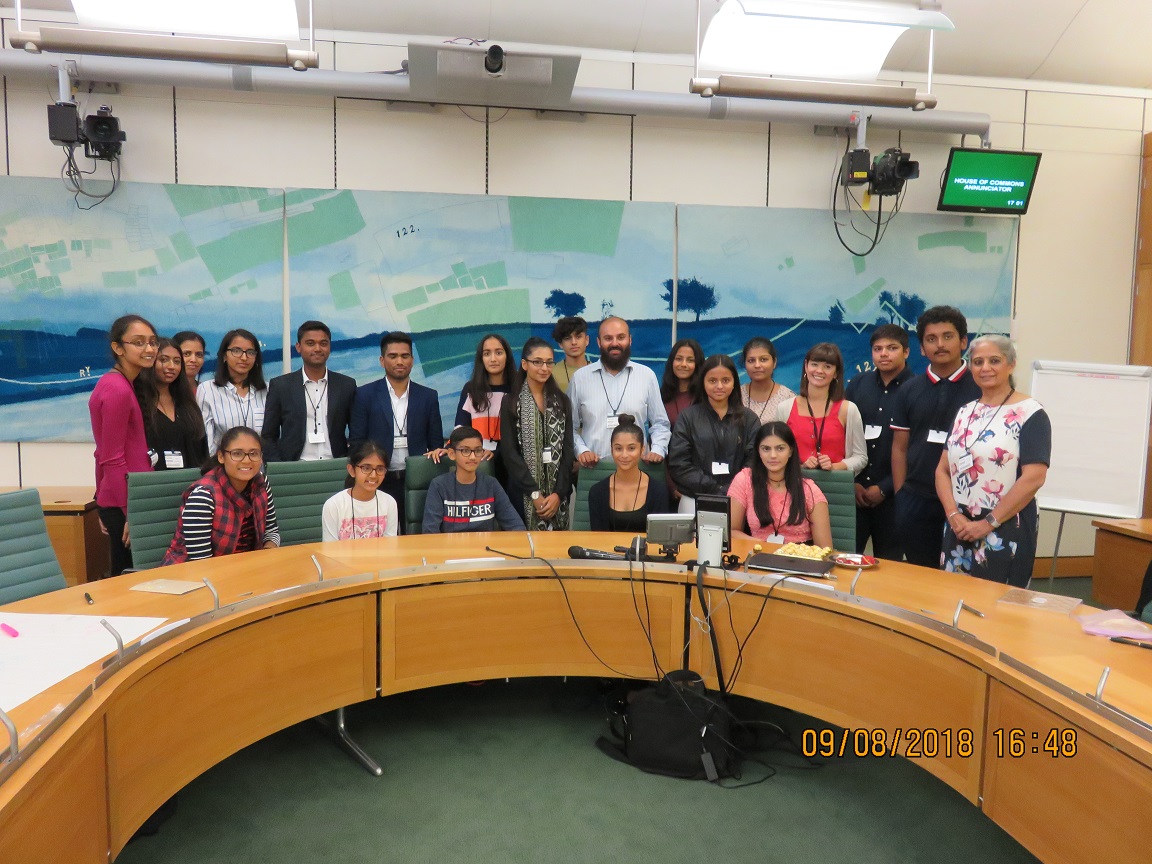 kk