Whilst Sunday mornings are traditionally spent relaxing, recovering from the late night celebrations or engaging kids in extra-curricular activities, members of the slough chapters of Hindu Swayamsevak Sangh and Hindu Sevika Samiti (HSS UK), decided to dedicate their Sunday morning in a unique activity as part of Sewa Day: A group of 14 adults and 11 children assisted City of London Rangers with a much-needed programme that helps with the restoration of the rare heathland habitat found at Burnham Beeches.
HSS UK has at its heart 3 core values, Sanskar (good Dharmic values) Sewa (selfless action), Sanghatan (unity in diversity) and today was about selfless action through the international Sewa Day initiative. Sewa, quite simply, is a universal concept, which involves performing an act of kindness without expectation of reward. It is performed selflessly and without an ulterior motive. It is a Sanskrit word and is embedded in the Dharmic traditions of ancient India. It means to sacrifice your time and resources for the benefit of others without wanting anything in return.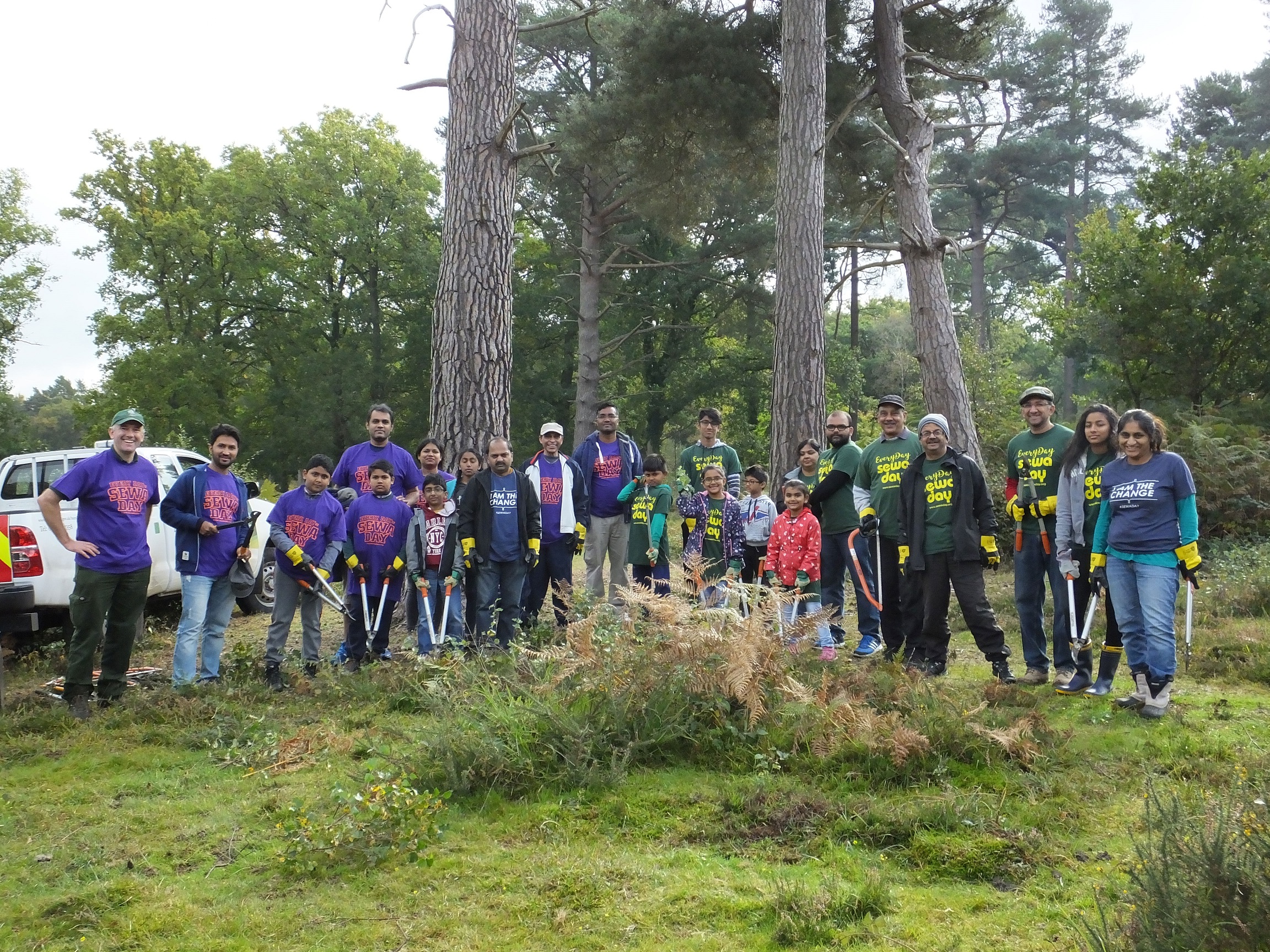 Led by two rangers from the City of London, a group of 25 from HSS UK, gathered at Burnham Beeches, an ancient, semi-natural woodland and designated Site of Special Scientific Interest containing one of the largest fragments of heathland left in Buckinghamshire, to cut back scrubby birch trees that have started to invade open areas. Whilst no-one had any expectation of fun, the group couldn't help but enjoy the spirit of unity which was evident as children and adults clipped and sawed back a large area in the woods. And for an added bit of excitement, trees and wood were thrown into a large bonfire.
Chris Morris, the City of London Ranger who was in charge explained the importance of the task pointing out that "Heathland is a habitat that has declined by about 80% nationally and by around 95% in Buckinghamshire in the last 150 years; globally it's a very rare habitat! The work and spirit of the group was a great demonstration of the ethos of Sewa and Unity in Strength and Diversity. Communities working together to achieve fantastic outcomes is a great message to promote. In two hours alone the group had achieved so much that benefits the wildlife and all those who enjoy Burnham Beeches."
Janhavi Dadarkar, head of PR for women's division of HSS UK commented "This was a first for our group as in the past we have engaged in clearing up litter, going to old people's homes and blood donation drives. Many people feel they need to go to South America or Africa to engage in environmental preservation projects but as a local to Burnham Beeches, this day highlighted how crucial it is that the whole community also commit more time to local Sewa projects. We are privileged to have such wonderful green and unique habitats on our doorstep and we have a duty to look after them."
The two rangers, Chris Morris and Leonie Short joined the group for a much-needed chai and bhaji picnic, which was a great ending to a very worthwhile Sewa day.