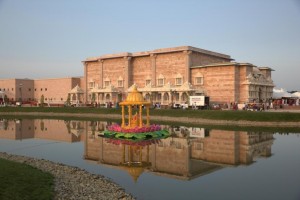 Inauguration of BAPS temple in New Jersey
The BAPS Shri Swaminarayan Mandir was inaugurated in Robbinsville, NJ by Pramukh Swami Maharaj and senior Sadguru Swamis of BAPS, on 10th August. The inauguration of this traditional stone mandir marks the completion of the second phase of the Swaminarayan Akshardham complex that is currently planned for the site. The mandir is 133 feet long and 87 feet wide, comprising of 98 pillars and two domes (ghummats) 30 feet wide and 34 feet high, according to a press release. The Mandir is made entirely of Italian marble and was completed in three years at a cost of $18 million.
---
Special News from the USA
SACRAMENTO, CALIFORNIA, August 13, 2014 (California Legislative Information): For the second straight year, the California State Senate unanimously designated October as California Hindu American Awareness and Appreciation Month. Senate Concurrent Resolution (SCR) 93, authored by State Senate Majority Leader, Ellen Corbett (10th Senate District), "recognizes and acknowledges the significant contributions made by Californians of Hindu heritage to our state" and "seeks to increase awareness and understanding of the Hindu American community."
"I am so honoured to represent constituents from many diverse backgrounds, including a significant number of Hindu Americans, in the 10th State Senate District," said Senator Corbett. "Over two million Hindu Americans call the United States home and this thriving community enriches our state and nation's diversity and professional strengths in fields as diverse as technology, literature, arts, business and education. I thank my colleagues for supporting SCR 93 that recognizes Hindu American contributions in California, as well as designates October 2014 in their honour." A delegation from the Hindu American Foundation (HAF), which worked closely with Senator Corbett on the resolution, was honoured last Thursday on the Senate floor and presented with a framed commemorative version of the resolution.
---