Samiti National Abhyas Varg
A varg [Trainning] to develop our core skills as karyakartas to strengthen our shakha and continue karyakartaa nirman [Development process of active members].
London Zone
All London Shakha's of North London, West England and South East Vibhaags attended the London Abhyaas Varg in Finchley on Sunday, 22nd January 2017, with a sankhya of 57.
We were honoured to have several KKM [National] members present on the day too. 8 dynamic, interactive and informative vishays were organised to help all the karyakartas develop 'Back to basics' skills, knowledge and an understanding of running and planning an effective shakha on a weekly and long term basis. These included: Suryanamaskar and warm ups, Gana samata, Praarthana abhyas, administration and policies, Khel, Shikshan vidhi, bauddhik content and delivery and Aachar padati.
Each vishay focused on reaching for excellence. Upon reflection, several descriptions came to the karyakarta's minds: 'fun and development', 'shaping the mind and the body', 'networking', and many more. In simple words, the varg was concluded with a samarop bauddhik about developing ourselves as 4D karyakartas.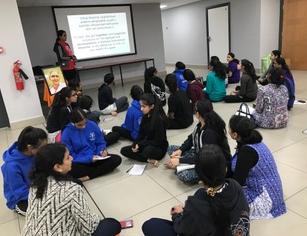 North Zone
Our National Abhyas Varg continues its journey to the North Vibhag. This varg was held on Sunday 12th February 2017 in Oldham with a sankhya of 30, represented by karyakartas from Liverpool, Bolton, Oldham, Manchester Bradford and Newcastle. The theme of getting back to our core shakha karya was focused on and reflecting of how we should strive towards developing ourselves as a 4dimensional karyakarta.