On Friday 2nd June 2017, Rob Wilson, the Conservative MP for Reading East visited Reading Shakha & Balagokolum.  It was a great opportunity for the swayemsewaks to interact and get a glimpse into the life of a Member of Parliament.  He was appointed Parliament Under Secretary of State at the Department for Culture, Media and Sport but currently canvassing votes for re-election.   Lately, he had been participating in a number of grueling hustings events and some full-on media interviews but our group had decided to welcome the guest for a light hearted and a jovial session at the same time extol the virtues of some of our activities such as Yoga and Meditation which could aid him during this arduous period.
Our Public Relations representative (Sampark Pramukh), Shree Narendraji, kicked off the session with a summary of his biography encompassing his education, political career and outside interests including business entrepreneurships and even book writing.
Our area coordinator (Vibagh Pramukh), Shree Yogeshji, gave a brief on over 50 years of HSS in the UK, the activities it conducts through weekly gathering of Shakha and values it promotes on Sanskaar, Sewa and Sangathan in the society
Thereafter, the floor was given to Rob-Ji to say a few opening words.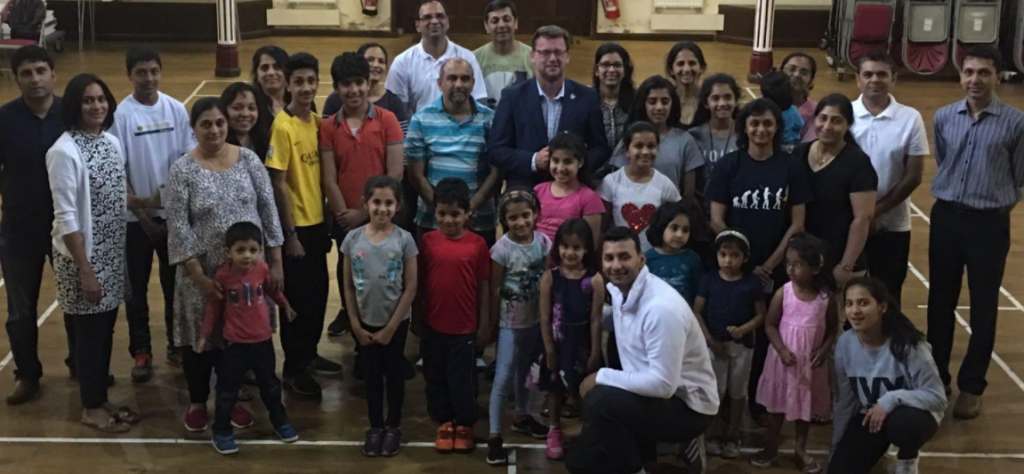 After University, he always wanted to go into business and make lots of money, not necessarily one but a number of different ones. He enjoyed the thrill of being an entrepreneur and never wanted to work for anybody else and made his name by building up several small businesses.   He got into politics by accident – he stood for local council and got elected; subsequently, he got elected to parliament and as he got more involved, it was impossible to manage the businesses so he sold them and became a full-time politician. When we commented that he was like a forthright capitalist Indian who loves running businesses.  His befitting reply was that he felt like an honorary Indian.
The question and answer session revealed a number of further facts about his life and his passions.  The parents and children had an opportunity to quiz him on a number of topics; ranging from his favourite subject, sport and music taste to environmental issues.  His interest also included projects to improve the local transport infrastructure, enhancing the healthcare with world-class specialist care services to providing parents with a choice of school types such as Grammar's and Academy's to University Tutorial colleges.
Although, many teenagers would not be able to vote in this General Election, if was refreshing to observe the level of enthusiasm shown in this country's democratic process. Indeed, we do not support any political party, yet exposing these youngsters during their formative years to such meetings may help alleviate any misgivings that may hold about going into politics in the future.